Neem leaves are a medicinal herb that is useful for the treatment of various ailments. Its powder has anti-microbial, anti-inflammatory, antibacterial, anti-fungal, and anti-viral properties which makes it an important ingredient that can be used for treating problems. If you don't get fresh neem leaves, then you can get neem leaf powder as it is a wonderful alternative.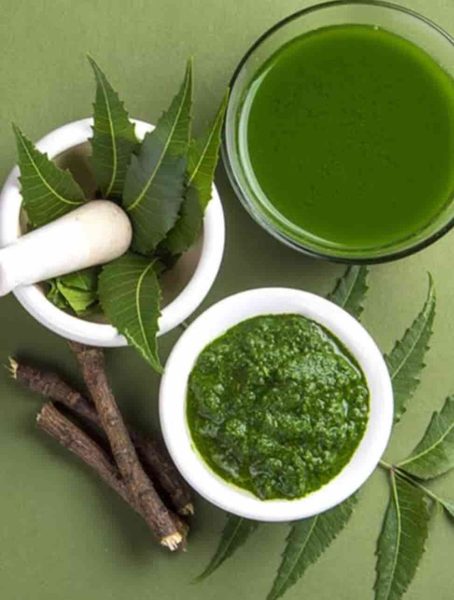 Neem Benefits
1. For Teeth
Neem contains antibacterial properties that help to treat dental problems very effectively. It combats gum diseases and keeps the mouth healthy. Neem can fight against cavities as it can kill bacteria in the mouth. It helps to reduce plaque and also treats bad breath.
2. For Diabetes
Neem powder helps to lower blood sugar levels when consumed internally. You can get leaf tablets everywhere, you can use them. Or you can also mix neem powder in water and drink it for controlling blood sugar levels.
3. For Pimples or Acne
Usually, people with oily skin suffer from pimples and acne. The antioxidant, antiviral, antiseptic, anti-inflammatory, and antifungal properties of neem help in treating acne or pimples. One can apply a neem face pack regularly. As powdered neem leaves are mostly used in facial creams.
4. For Dandruff
Dandruff occurs due to the flaking of a dry scalp or the shedding of dead cells from the scalp. Neem powder is an amazing home remedy for dandruff when used as a hair pack. It can help to get rid of dandruff. You can just add neem powder to water and apply this mixture to your hair roots. Leave it for some time and then rinse thoroughly.
5. For Head Lice
Neem has got a property that inhibits the growth of lice. Its powder is a natural pesticide and is wonderful for killing head lice. Neem also prevents the lice eggs from hatching. One can use neem powder or neem oil as well. But the neem oil has a very strong odor. Neem is highly effective for head lice.
6. Hair Loss
Hair loss has become a common problem nowadays due to several causes. Do you know neem powder can help you in reducing hair fall? As mentioned above Neem leaves can treat almost all the problems of the scalp like itchiness, and dandruff. So Neem leaves can help to arrest hair loss and promote new hair growth.
7. For Eczema
Eczema is a skin condition in which the skin becomes red, dry, extremely itchy, and inflamed. It is more common in children. To treat this problem you can use neem powder as it helps reduce the inflammation very very effectively. Make a mix of neem powder with yogurt and apply it to the area. Neem powder has proven to be effective in providing relief from eczema.
Benefits

Neem Oil

Neem oil is prepared by extracting oil from the neem seeds. It is rich in medicinal properties. Neem oil is a great ingredient used in cosmetics and other beauty products. It is also known to be an excellent mosquito repellent. Here are some great uses of neem oil.
1. Anti-aging
With all its medicinal properties neem oil is extremely nourishing oil. You can add it to your face packs. It helps with any kind of skin irritation, itching as well as aging skin.
2. Say no to blackheads
Blackheads are a common issue faced by everyone. Neem oil can help to get rid of blackheads. What you have to do is take 3 to 4 drops of neem oil, and dilute it with water. Apply this mix to your blackheads regularly and say bye to blackheads. It also helps to prevent them from coming back.