1. Bridge of Peace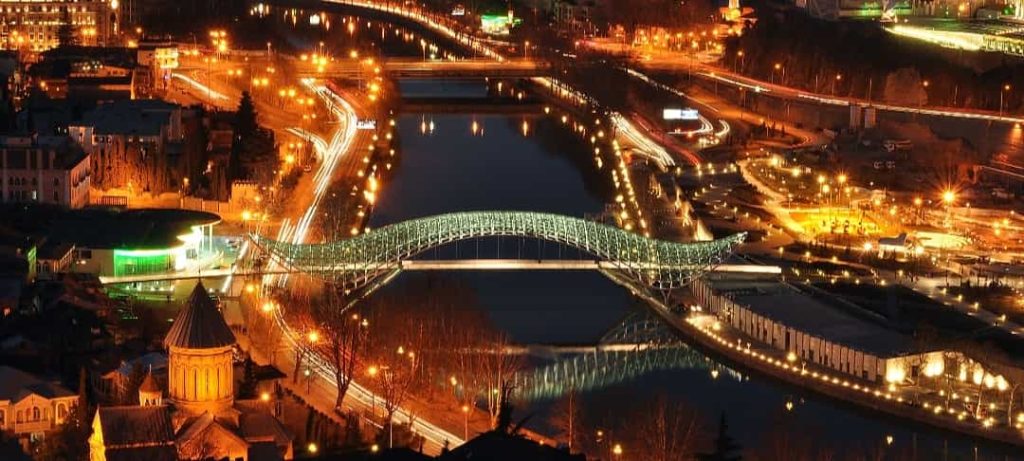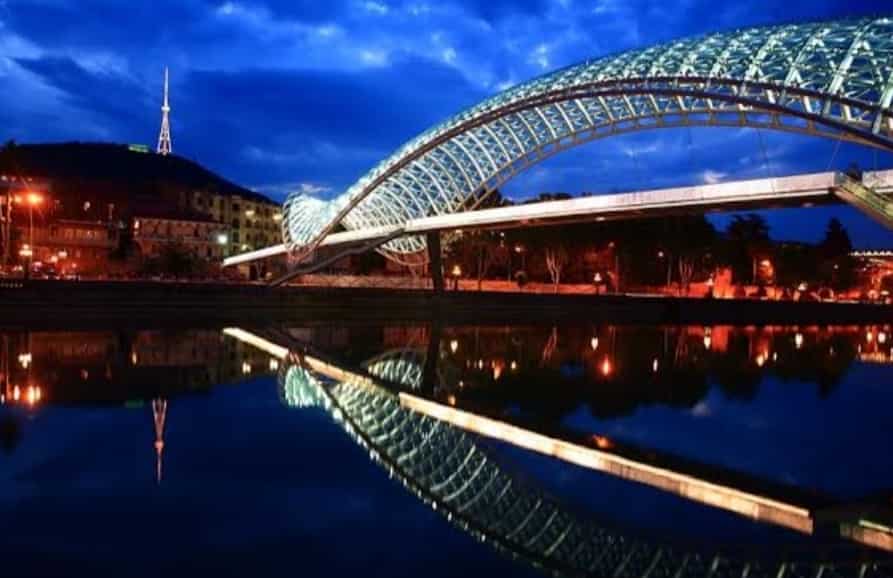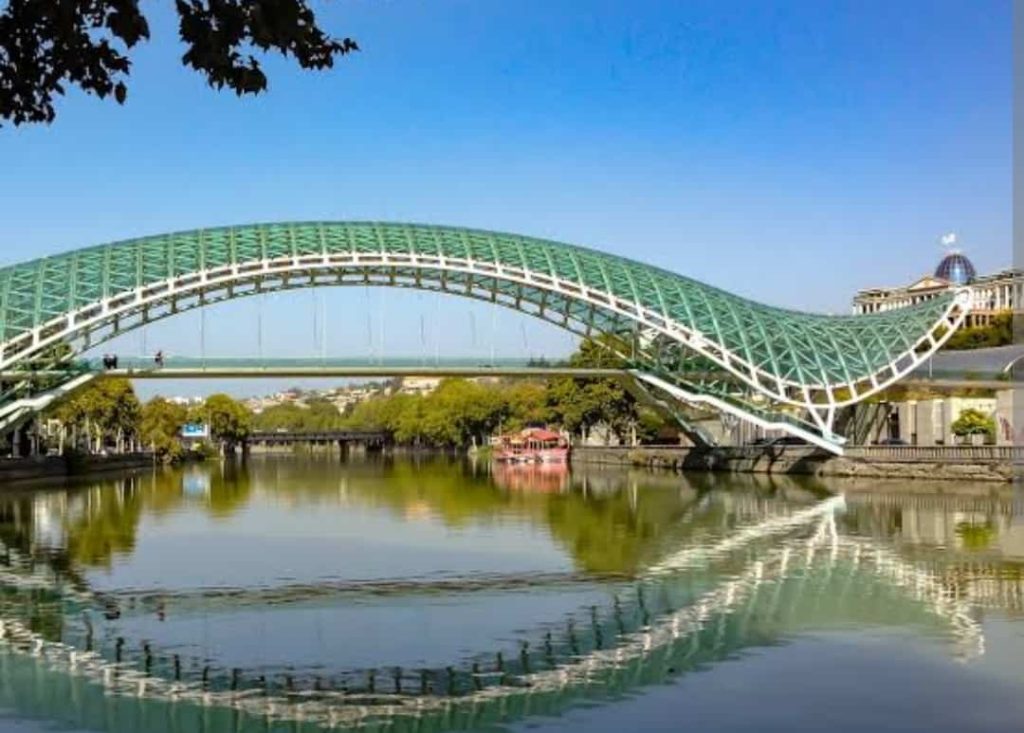 The Bridge of Peace is a bow-shaped pedestrian bridge, a steel and glass construction illuminated with numerous LEDs, over the Kura River, linking the Rike Park with the Old Town in central Tbilisi. The bridge was designed by the Italian architect "Michele De Lucchi". The most outstanding characteristics of this project are extremely tight planning which included the laying of piles and foundation, continuous interfacing of the metal carpentry glass paneling and lighting system, and unique installation phases.
2. Gergeti Trinity Church
Gergeti Trinity Church is a popular name for Holy Trinity Church near the village of Stepantsminda in Georgia. The church is situated on the right bank of the river Chkheri at an elevation of 2170 meters (7120 feet), under Mount Kazbek. The Gergeti Trinity Church was built in the 14th century and is the only cross-cupola church in Khevi province. The church is a popular waypoint for trekkers in the area and can be reached by a steep 1.5-hour climb up the mountain.
3. The statue of Ali and Nino
The statue of Ali and Nino – a moving sculptural composition on Batumi Boulevard, is one of the attractions of Georgia's Black Sea resort. The 8-meter-high transparent, steel figures of a woman and man, named Ali and Nino, move slowly to pass through each other and gradually become one. This process repeats every 10 minutes. The statue of Ali and Nino was created in 2010 and represents a symbol of love.
4. Narikala Fortress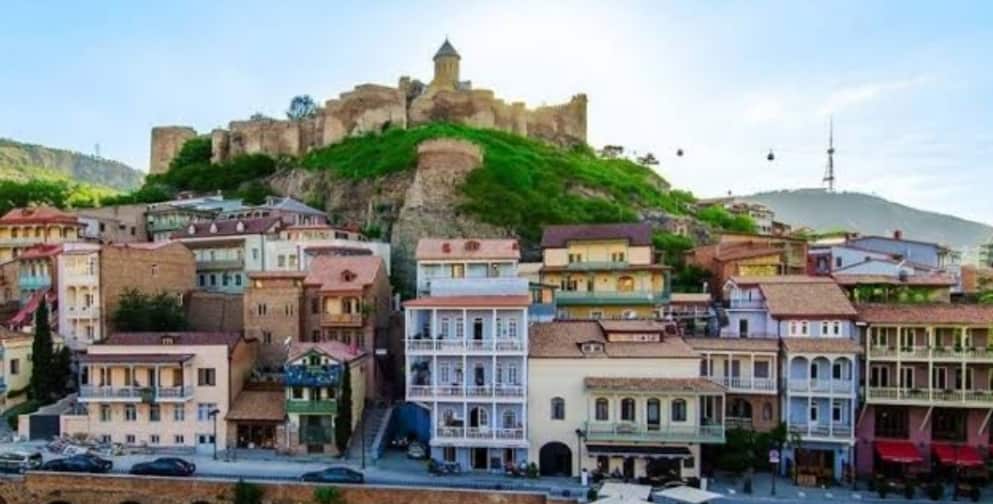 Narikala is an ancient fortress overlooking Tbilisi, the capital of Georgia, and the Mtkvari (Kura) River. The fortress consists of two walled sections on a steep hill between the sulfur baths and the botanical gardens of Tbilisi. The internal part of the church is decorated with frescos showing scenes from both the Bible and the history of Georgia.
5. Lake Ritsa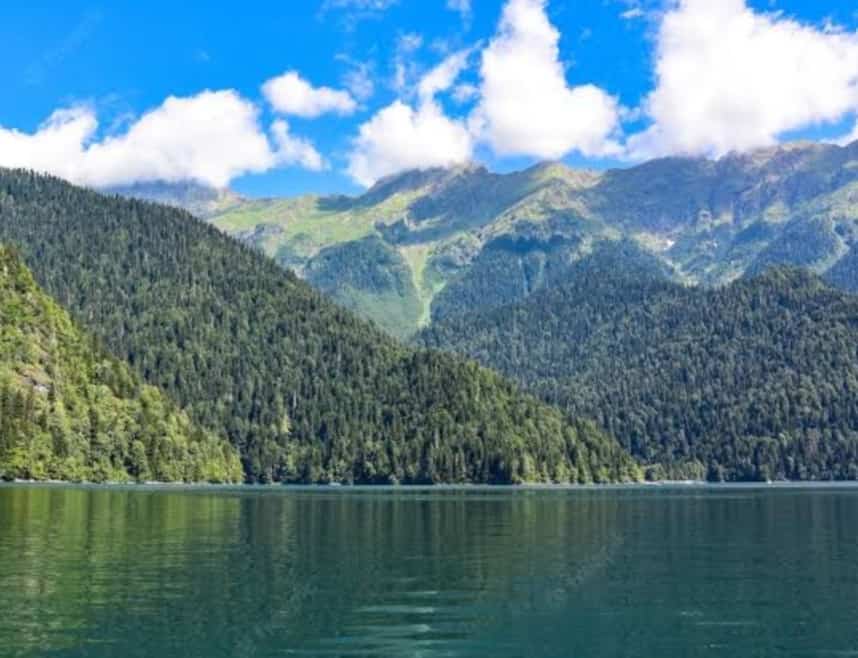 Lake Ritsa is a lake in the northwestern part of Georgia, in the Caucasus Mountains. It is surrounded by mixed mountain forests and subalpine meadows. Lake Ritsa's water is cold and clear. Mountains with heights of 2,200 to 3,500 m surround the lake. The region around Lake Ritsa is a part of the Euxine-Colchic deciduous forests ecoregion with a fairly high concentration of evergreen boxwood groves.